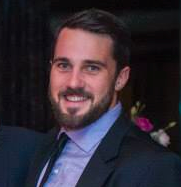 Cam Brown is a consultant for 5 Lakes Energy. Before joining the 5 Lakes team, Cam worked as the environmental affairs coordinator for the California Wine Institute and the California Sustainable Winegrowing Alliance. He has consulted for the Climate Action Campaign and the Michigan Grape and Wine Industry Council as an industry specialist on sustainability, climate change, and environmental policy. Previously, Cam has worked for the wine industry in South Africa, California, and Michigan, the Society of American Foresters, and the Northwest Michigan Council of Governments.
Cam holds a Bachelor of Arts degree in International Relations from Michigan State University's James Madison College with a specialization in Science, Technology, and Environmental Policy.
Cam lives in Traverse City. You can follow him on Twitter at @Camden_Brown.