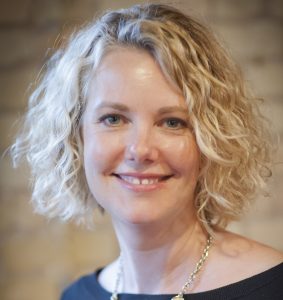 Get to know 5LE Partner and Co-Founder Liesl Eichler Clark!
Liesl Eichler Clark wants all Michigan residents to have the best possible opportunities to use wind, water, solar and other sustainable energy sources at home and on the job, and that's one reason she's excited about her work with 5 Lakes Energy, a company she co-founded with Stanley "Skip" Pruss in 2010. Liesl also serves as the President of the Michigan Energy Innovation Business Council, a business trade association representing companies in Michigan's growing advanced energy sector.
Every day, Liesl helps to build the runway for clean energy use. She spends long hours engaging with policymakers and stakeholders discussing the benefits of clean energy, knocking down barriers that limit its potential, building collaborations, and developing pathways that spur both demand and supply of advanced energy products and services.
Liesl's passion for clean energy extends to her personal life, as well. When she and her husband were looking for a place to live, they focused their search on walkable communities. They found the perfect home in Howell and loved its vintage charm, but it was built long before anyone was concerned with the cost and sources of energy. After getting an energy audit on the structure, they developed a plan to make their home more efficient. Last spring, they installed solar panels on the roof, which are providing about 80% of the electricity they need. They consider it an investment in both the house and the future of sustainable, affordable energy.
"It's a hedge against energy costs," explains Liesl, "and it's important that we try these early technologies so we can figure out what's working and what needs improvement." She also knows that solar power is contagious.  Studies show that six residences using solar power in one zip code is the tipping point at which people in the area begin to understand that solar works.
Liesl's favorite car is her Chevy Volt – her second plug-in hybrid electric vehicle. She wanted to support General Motors and its commitment to bringing the Volt to market, and it's one more way she can make use of advanced energy technologies. "I'm also mindful of the effect our choices have on our children and the decisions they'll make in the years to come," she says. "My kids love having a zero emissions vehicle!"
Liesl is proud of the impact 5 Lakes Energy is having in Michigan. "In just six years, we've raised both the visibility of new energies and customers' access to them." she says. "We've helped communities and businesses understand why they should care about their energy use. We've advanced policies that support clean, sustainably energy, and we've helped consumers navigate the options. It's a win for everyone!"
Liesl Eichler Clark can be contacted at lclark@5lakesenergytest.flywheelsites.com.
Posted by Jamie Scripps, 07/12/2017