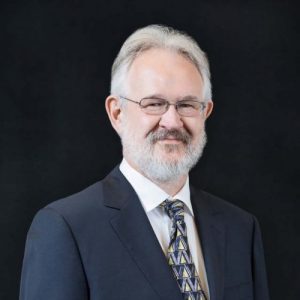 Get to know 5LE Partner Douglas Jester!
If you've purchased hunting or fishing licenses through Michigan's automated system, or reserved a campsite online, you can thank Douglas Jester for these two streamlined processes that get you what you need quickly and accurately. In 1984, Douglas was working for the Michigan Department of Natural Resources (MDNR) analyzing data for license fee increases when he hit on the idea of automating licenses. By the early 1990s, with communication networks in place, he proposed the process and it was adopted. It was the first such system anywhere in the world, and automating campground reservations was a natural spinoff.
"I was an early adopter of information technology," says the energy, economics and technology expert, who started his career applying math to understand how desert ecosystems work, while he was still a college student in New Mexico. Later, he worked for MDNR analyzing the data around water quality permits for coal plants and hydro-electric dams. The goal was to balance their effects on recreation and the environment with the amount of energy being generated to determine how power plants could be best designed or modified and used most effectively.
"I analyzed data around public policy questions, trying to determine what was best for the people of Michigan," explains Douglas, who became chief information officer for the MDNR in 1995.
After moving in 1999 to MCI, the global communication company, he helped develop and operate large scale information systems with a broad range of purposes from vehicle emissions testing and toll collection to facilitating background checks for firearm purchases.
In 2008, Douglas reconnected with Stanley "Skip" Pruss, who was at that time serving as the Chief Energy Officer for the State of Michigan, and the Director of the Department of Energy, Labor, and Economic Growth. Douglas and Skip had met years earlier while working on issues with the Ludington pumped storage plant. Douglas's skills and experience dovetailed perfectly with the needs of the state, and he was brought on as a senior energy policy advisor at the department.
Douglas joined the 5 Lakes Energy team as a partner in 2011. He serves frequently as an expert witness before the Michigan Public Service Commission, proposing options for cleaner or cheaper energy sources – or both, testifying about the appropriateness of utility company proposals, and weighing incentives that will be good for all sides.
Douglas and his wife, pediatrician Colleen Barry, live in East Lansing, where Douglas served as mayor for two years. In 2005, they moved from a conventional home to a mixed-use building in the heart of East Lansing's progressive, walkable downtown and are delighted with the convenience and diversity of this vibrant university community.
They have one car, and on rare occasions when a second is needed, they have Zipcars in the neighborhood and access to a car service called Lyft. If they're flying from Detroit Metro Airport, they can catch one of seven daily shuttle busses that board passengers right across the street from their building.
Douglas and Colleen are completing design plans for a home near Northport that will be an ultra-energy-efficient residence built to the standards of Passivhaus, a rigorous green building standard developed in Germany. They look forward to gathering there with their daughter, who is a journalist for the website FiveThirtyEight, a son who rehabs homes in the Lansing area, and another son who is an audio engineer in Brooklyn.
Douglas can be contacted at djester@5lakesenergytest.flywheelsites.com.
-Posted by Jamie Scripps, 6/20/2017