Get to know 5LE Team Member Karl Boothman!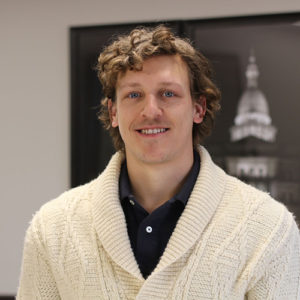 Sometimes, when the right job comes along, you change your life and jump on it. In Karl Boothman's case, he jumped on both the job and a bicycle!
Karl graduated from the University of Michigan with a major in economics and a minor in environmental studies, and he landed a job as a consultant in antitrust regulatory economics. It was a good position, but it didn't have his heart.
"I'm an avid outdoorsperson!" says Karl with contagious enthusiasm. "I love to hike and climb and to go mountain biking and fly fishing, and I wanted to see if I could pair my favorite activities with my education and get involved in environmental issues."
Karl left the antitrust work at the beginning of summer 2016 and volunteered with an environmental law and policy center in Traverse City for three months. He lived in a tent in the woods on a friend's farm and made the 40-mile round-trip from tent to office every day on his bicycle. It wasn't long before he caught the attention of the partners at 5 Lakes Energy. His background in economic analysis, and his passion for protecting the environment, made him a perfect fit for the firm's regulatory practice, for which he now provides research and analytical support.
When Karl first connected with 5 Lakes Energy, it seemed like a dream job for him, but there was the little matter of his plans to move to California at the end of the summer. Fortunately, many of the 5 Lakes Energy team members live in different cities and are pros at working effectively with a lot of geography between them. In fact, living where they want and working from home offers convenience, a connectedness to their communities, and a balance between their business and personal lives that they cherish.
These days, Karl and his girlfriend, Erica Dombro, live in an energy efficient cabin in Nevada City, California, a town of about 2,500 people. Erica designs ultralight backpacking equipment for a small nearby company. Karl usually works from home or in a little coffee shop he can bike to. He focuses on regulatory economics, analyzing the data submitted by utility companies to the Michigan Public Service Commission. Applying his findings, 5 Lakes Energy team members make recommendations for modifying utility rates, often emphasizing efficiency, conservation, and the adoption of renewable energy. This job has Karl's heart.
Karl is always looking for ways he can minimize his impact on the earth. Biking is his first choice for transportation. He heats with wood harvested locally, thinks about everything he consumes, and tries to re-use everything. His life and work flow together like water over smooth rocks.
"When you work in this field, it's easy to see how short-sighted we have been in the way we use natural resources," says the new consultant at 5 Lakes Energy. "The core of our work is educating and combatting that shortsightedness. I know I'm helping make a good impact, and I'm doing my small part to preserve this beautiful planet for future generations."