Get to know 5LE Team Member Laura Sherman!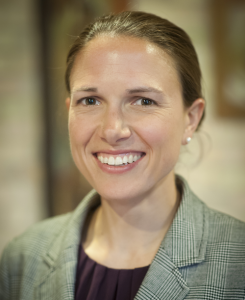 Laura Sherman is the newest member of the 5 Lakes Energy  team, and she brings to the firm a deep and far-reaching background of research and work in the field of energy. She earned a bachelor's degree in Geological and Environmental Science, and while working toward her doctorate in Environmental Sciences, Laura developed a way to track mercury pollution caused by fossil fuel burning at coal-fired power plants. That was followed by two years as a congressional staffer in Washington, DC working with policymakers in Congress to help them communicate complicated environmental issues to the public and develop policy solutions to complex energy, environmental, and agricultural challenges.
From Washington, Laura moved to Toledo, and began looking for work that would dovetail with her education and interests.
"Anytime the subject of renewable energy came up, so did a group called 5 Lakes Energy," Laura remembers. "So I talked with some of the 5 Lakes Energy partners, then I met them, and I knew I wanted to be part of the organization. They were inspirational!"
Meanwhile, Laura and her partner, Shawna, a neonatologist at Northwest Ohio Neonatal Associates, bought a home in a lovely old neighborhood with the big trees and diversity they were looking for. The house was built in 1927 and had tons of character including wonderful archways and built-in bookshelves. With all that charm came plenty of old asbestos-ridden insulation.
They've since made several upgrades, including replacing all the insulation and installing new windows, to make the home as safe and energy efficient as possible.
"Plus I keep it warm in summer and cold in winter!" Laura adds with her characteristic enthusiasm that will make you want to turn off your air conditioner and open your windows.
These days, Laura's commute begins with a walk upstairs to her office. When the 5 Lakes Energy team needs to talk together, they usually teleconference. Laura has a hybrid car, but she doesn't have to drive much, and that's a priority for the whole team.
Her days are full as she works with businesses, community groups and local officials to help them understand the truth about confusing and sometimes misrepresented energy issues, especially around wind power. She hears their fears and concerns — from health implications to tax matters — listens to all sides, generates positive dialogue, and helps those involved navigate to a solution that works.
"There are lots of myths out there," she observes, "and we can provide reliable, fact-based information to help provide clarity. My work is very satisfying, and we're making progress to increase the use of renewable energy. We're addressing the issues using tools that are real, economical, practical and available right now. This is action-oriented work and I'm really enjoying it!"
Laura can be contacted at lsherman@5lakesenergytest.flywheelsites.com
Posted by Jamie Scripps 6/15/2017