5 Lakes Energy is proud to be a B Corp™!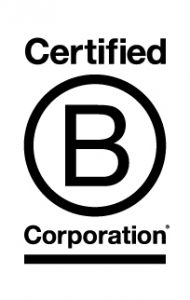 5 Lakes Energy was certified by
B Lab
, a nonprofit organization, as meeting the highest standards of overall social and environmental performance, accountability, and transparency. To gain certification, 5 Lakes Energy evaluated how their practices impact their employees, community, clients, and the environment.
Today, there are more than 2,000 Certified B Corporations around the globe, including Sokol Blosser (Oregon), Brewery vivant (Michigan), and Higher Grounds Trading Company (Michigan). 5 Lakes Energy is proud to join them in redefining success in business to not only be the best, but to be the best for the world.
With its certification in place, 5 Lakes Energy is committed to helping other businesses become part of the B Corporation movement.
"Not only did the process help us identify how we can become a stronger organization, it has given us insight on how to help other businesses join the ranks of Certified B Corporations, too."
Liesl Clark, 5 Lakes Energy co-founder and partner
To learn more about 5 Lakes Energy's certification, or to find out how your business can become a B Corp,
contact Liesl Clark (lclark@5lakesenergy.com).
What is a B Corp?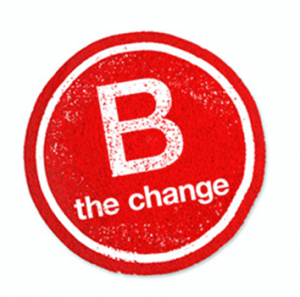 Individually, Certified B Corporations meet the highest standards of verified social and environmental performance, public transparency, and legal accountability. B Corps aspire to use the power of markets to solve social and environmental problems. Collectively, B Corps lead a growing global movement of people who are committed to:
Being the change they seek in the world
Conducting business as if people and place matter
Aspiring to do no harm and benefiting all through product, place, and profit
Acting with the knowledge that we are responsible for each other and future generations
About the B Impact Assessment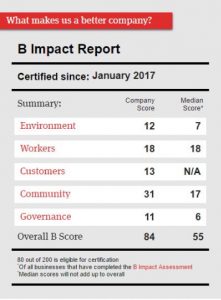 B Corporations are leading a global movement of people using business as a force for good™. The Certification process is a strenuous measure of commitment to the environment, community, and employees. B Lab sets strict standards for companies to meet that cover social and environment performance, public transparency, and legal accountability.
An initial online assessment followed by a more in depth evaluation gave 5 Lakes Energy a structured approach to conduct a thorough self-evaluation, understand the impact of their activities on the outside world, and reflect on how they can improve performance and live their values.
5 Lakes Energy ultimately scored 84 points (out of a possible 200) on the B Impact Assessment (80 points are required to become a Certified B Corporation).
Contact us to learn more about our experience!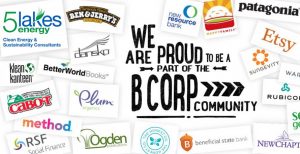 Sign the form to receive regular updates about 5 Lakes Energy and find out how you can help!