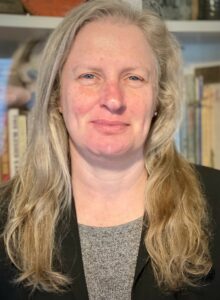 5 Lakes Energy is excited to welcome Jenn Hill to the team to focus on policy development, analysis, and advocacy with a focus on preparing rural regions for energy transition and climate change. Current projects include education campaigns about the benefits of renewable energy options and fostering deployment of electric vehicles and building electrification.
She brings 25 years' experience in government, business, nonprofits, and philanthropy, beginning with her master's thesis in environmental planning at MIT.   This work analyzed how varying levels of citizen engagement influenced developing trust in the water quality monitoring, and subsequent regulatory actions taken, on the rivers feeding Boston Harbor. She also holds a BA cum laude in anthropology from Barnard College.
Previous projects included coordinating environmental, health and safety officers in a variety of manufacturing facilities in New England, a 5-agency public health and transportation collaboration to address rising childhood obesity rates in Somerville, Massachusetts, recognized by the Robert Wood Johnson Foundation, and the first statewide report on the economic impact of arts and culture organizations in Michigan with the Pew Charitable Trusts and many private, corporate and community foundations. The common element is sustainable development built on quality data, systems analysis and supporting effective multi-sector networks.
Jenn joined the Board of Directors of the Citizens Utility Board of Michigan in 2018.  Governor Whitmer appointed her to the UP Energy Task Force following her advocacy to recognize the region's energy challenges in the regulatory process at the Michigan Public Service Commission and her campaign to engage County Commissioners in energy planning. Elected to the Marquette City Commission in 2018, replacing an incumbent, her fellow Commissioners have twice elected her Mayor Pro Tem. A 4-H kid with family roots in the industrial and agricultural Midwest, Ms. Hill enjoys seeing Lake Superior shining on the horizon as she shovels the snow from her driveway.