5 Lakes Energy was excited to attend the Sustainable Brands Conference in Detroit, Michigan at the end of May. This annual conference often is held on the west coast, so we were especially happy that it was held in Michigan this year! The conference was attended by an inspiring group of entrepreneurs, business leaders, educators, and non-profit organizations from around the world. We spent several action-packed days learning, networking, and expanding our horizons.
Sustainable Brands is the largest peer community of global business leaders committed to brand value creation through sustainability innovation. Many Michigan companies who are focused on sustainability and have committed to purchasing renewable energy were sponsors of the conference including Ford, Dow, Whirlpool, Steelcase, and General Motors.
The conference was also well attended by Certified B Corporations – 5 Lakes Energy is proud to be the newest Michigan B Corp! We joined nearly 2,000 companies worldwide across 130 different industries in the rapidly growing Certified B Corporation, or B Corp, movement. B Corps are companies that are certified to meet rigorous standards to benefit society, the community, the environment, and their employees. The international certification is similar to LEED for green buildings or Fair Trade for coffee, but with a focus on an entire business, not just one segment of it.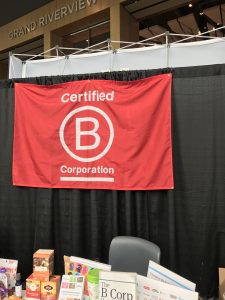 This year's Sustainable Brands Conference was themed "Redefining the Good Life." Reflecting this theme, the exhibitor hall (calle
d the "Activation Hub") was arranged into pavilions organized by market sector: Good Energy, Good
Food/Agriculture, Good Mobility/Travel, Good Apparel, Good Chemistry, Good Cities, Good Homes, Good Logistics, Good Packaging, Good Retail, Good Supply Chain/Materials/Technology.
In the Activation Hub, through panel discussions, and at the plenary sessions, several themes especially stood out to us:
It's critical to develop measurable and justifiable metrics to measure your company's sustainable practices and progress toward sustainability goals. And then it's crucial to track your progress through time as you learn, grow, and improve.
Becoming a B Corp is not just about achieving recognition for our efforts to walk the talk – it's also given us an amazing community of sustainable business leaders and innovative entrepreneurs who we look forward to learning from and collaborating with.
Sustainability and Corporate Social Responsibility are gaining importance and momentum among companies of all sizes and across all industries. Customers, shareholders, and employees are demanding meaningful change and companies are responding.
We're excited to continue learning from and being inspired by the businesses represented at the Sustainable Brands Conference!