It was intended to be a trip across Lake Michigan, not around Lake Michigan, but what can you do when the ferry loses an engine?
Here's Jolt with the kids at my parent's lakehouse south of Harbor Beach, MI on Lake Huron.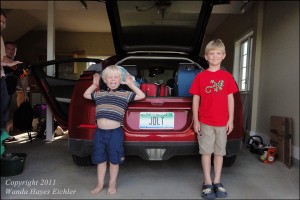 We drove from the east side of the Thumb to the Mackinac Bridge and over through the UP with a stop at Cut River to hike for an hour or so.  Then down into WI arriving on Lake Auburn a short (okay, not so short with a 3 and 6 year old!) 14 hours later.
And here is Jolt at my Grandpa's in Campbellsport, Wisconsin.  He has an old-school wind mill just out of sight.  Also just out of sight are the turbines of the wind park that surrounds his farm.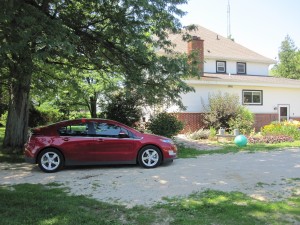 Jolt had a great trip.  The journey home took us on a fast track through Chicago going the south way.
We put another 1200 miles on and really love the car!