Wind on the Wires held a roundtable at Macomb Community College to create the opportunity to hear from stakeholders and experts about the impact of wind energy in Michigan. The American Wind Energy Association released "A Wind Vision for New Growth in Michigan" to highlight economic and environmental benefits possible with wind energy growth.
Beth Soholt, Executive Dir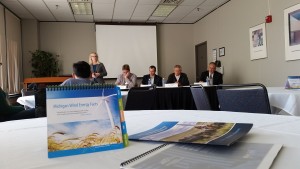 ector, Wind on the Wires kicked off the discussion by explaining the role of the policy in the wind industry. She emphasized the benefit to land owners including over $11.6 million in annual property tax revenue. "Wind is a crop that helps keep families in agriculture."
Next was Larry Ward from the Michigan Conservative Energy Forum. MCEF is focused on jobs and economic benefits of a diverse energy portfolio and bringing the conservative voice to the table.
Scott Viciana from Ventower told their story starting in 2008 as a brownfield development located at a key intersection of rail, road, and water. That strategic location has now made Ventower a choice for international wind development because of their product and the ability to move the towers. Ventower is now employing over 150 in Michigan and looking forward to future growth.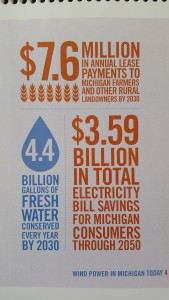 Ken Weller of EDF Renewables is the operations manager for the Great Lakes region and leads the Operations and Management team that keeps many Michigan wind farms working. Ken hires from Michigan community colleges – including Kalamazoo Community College and Macomb Community College – and provides well-paying local jobs that keep the young workforce in state. Ken describes changing the successful energy policy like changing the rules of a football game halfway through.
Finally, Brion Dickens took the audience along the historical path of Michigan's growth in the renewable energy space. He also made the point that the Renewable Portfolio Standard set the requirement to build renewable energy and the final projects that fulfil that goal are almost complete.
For more information: http://windenergyfoundation.org/wp-content/uploads/wind-vision-fact-sheet-MI.pdf