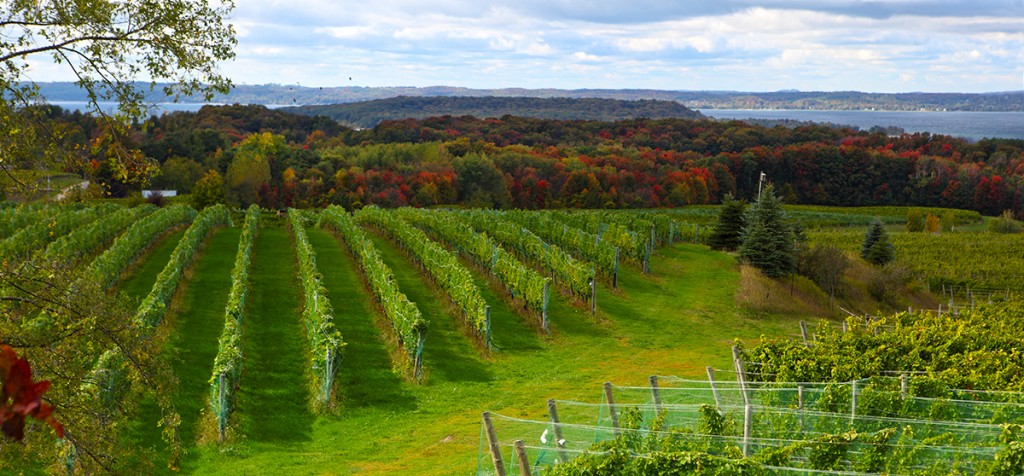 The Michigan Grape and Wine Industry Council, with a grant from the U.S. Department of Agriculture, contracted with 5 Lakes Energy to explore a sustainability program for Michigan's grape growing and wine industry.  Guided by a steering committee comprised of industry members, university partners and council members, 5 Lakes completed a feasibility study that offers a promising perspective on the industry's future.  To learn more visit:  at: 5LE_WineSustainabilityReport.
Quick Links:
The feasibility report contains references to helpful resources, including the following:
Lessons in Sustainable Wine from Washington and Oregon
As part of the Michigan Sustainable Wine Feasibility Study, a group from Michigan's wine industry, the Michigan Department of Agriculture and Rural Development, and 5 Lakes Energy spent last week meeting with wine industry members in Oregon and Washington who have been actively involved in sustainability initiatives.
We met with members, managers, and participants of Salmon Safe Farming, Low Input Viticulture and Enology (LIVE), Winerywise, and Vinewise. At these meetings, our group learned about the development of sustainability programs and certifications; why they were developed, by what means, and how are they maintained. Three major trends were evident on why the industry has committed to sustainability and how the programs have been successful in the Pacific Northwest: a clear value add for wineries or vineyards, the ability to build successful partnerships between wineries, vineyards, and organizations, and the opportunity to utilize sustainability as a response to market and regulatory demand.
Whether it was operational efficiency at St. Michelle Wine Estates, grape and wine quality at Domaine Drouhin, or water conservation and efficiency at Vinmotion, all of the wineries expressed similar sentiment; sustainability, whether through organic, biodynamic, or sustainable certifications has added significant value to the business that offsets or neutralizes most additional costs of participation. Since 2007,Adelsheim Vineyard has worked to certify all of their vineyards through LIVE. 223 acres are currently LIVE Certified, and the winery has also been certified. Through LIVE or other certifications, wineries like Adelsheim and Domaine Drouhin are able to send a transparent message directly to their consumers about their farming and production practices while simultaneously questions from retailers about practices.
The team at Adelsheim has been actively involved in the LIVE Board, supporting the organization's growth and development. Their commitment to LIVE demonstrate how LIVE has built strong relationships with wineries and vineyards. The industry's support for LIVE has grown in part due to LIVE's accreditation by the International Organization for Biological and Integrated Control (IOBC) and a partnership with Salmon Safe Farming. Through both relationships, LIVE has built a credible set of standards that can be practically implemented by vintners and growers. Additionally, the partnership with Salmon Safe expands the brand recognition for both parties through collaborative marketing efforts while also providing wineries with the resources to make credible and recognized claims about the sustainable farming practices used to produce their wine.
In Washington, a collaboration of wineries, industry associations, and universities developed Vinewise and Winerywise as a self-assessment resource for sustainable winegrape growing and winemaking practices. Unlike LIVE, these resources are not supported by a formal program and certification; they are educational tool that helps wineries and vineyards evaluate their practices, implement more sustainable practices, and prepare for third party certification if they so chose. St. Michelle Wine Estates has used both tools across their vineyard and wineries to increase operation efficiency, reduce resource use, and establish protocols to implement sustainable practices. When the Washington State Department of Ecology (DOE) announced the development of a new general permit for winery wastewater, the wine industry used Winerywise as evidence of their commitment to sustainability. Wineries who have implemented water efficiency strategies from Winerywise are well positioned to answer the Washington State DOE's questions, and provide valuable input because they are tracking, monitoring, and recording, water use, discharge, and conservation.
The wine industries in Oregon and Washington have developed valuable resources that can be used to inform and assist any sustainability initiatives in Michigan. TheWinerywise Winery Water Use Checklist is a great resource for Michigan wineries who have questions about water use, or wastewater. For more information, please refer to the following webinar for a presentation on the sustainability feasibility project and winery wastewater in Michigan by Liesl Eichler Clark of 5 Lakes Energy and Erin Gerber of Lakeshore Environmental. PDFs of both presentations can be found online here: Michigan Grape and Wine Conference.
Posted by Cam Brown, 5 Lakes Energy
May 11, 2015
WineAmerica 2015 National Grape and Wine Policy Conference
Last week WineAmerica held the 2015 National Grape and Wine Policy Conference in Washington, DC. The conference consisted of visits to Capitol Hill to meet with Representatives and informational panels. The panel presentations covered major legislative issues related to the United States wine industry with presentations from members of Congress, their staff, industry members, and policy experts.
For a great overview of the conference head to http://wineamerica.org/news/2015-wine-grape-policy-conference..
While Alcohol and Tobacco Tax and Trade (TTB) funding, tax or immigration reform are pressing issues for Michigan's wine industry to track, and be active on, the industry's priority is addressing back to back colder than normal winters that have caused significant crop damage and death.  Despite the harsh winters, the industry continues to look to the future in part due to support from policies designed specifically for agricultural producers. Whether through crop insurance, Specialty Crop Grants, Strategic Growth Initiatives, or Rural Energy for America Program (REAP), Michigan's wine industry can conduct vital research, alleviate some crop loss, and access financial tools to develop renewable energy projects because of the work that has been done by our Representatives, especially Senator Stabenow's tireless efforts through the Senate Committee on Agriculture, Nutrition, and Forestry. The WineAmerica policy conference was a opportunity to make the Michigan voice heard, and thank our representatives for their work to support the wine industry; a sentiment shared by our fellow Midwestern wine regions, and New York, who are facing climate challenges very similar to our own. Through WineAmerica, Michigan wineries interact directly with policy decision makers to insure the continuation of programs, grants, and insurance that help our industry grow grapes and make wine of the highest quality.
Sustainable Wines Webinar
Did you miss the Michigan Grape & Wine Conference session on "Sustainability Issues and Solutions for the Michigan Wine Industry"?
Press Coverage
New Sustainability Program for Michigan?
USDA grant may help growers and winemakers create certification program
by Linda Jones McKee
Chateau Chantal winemaker Mark Johnson stands by a sign for the Michigan Agriculture Environmental Assurance Program (MAEAP), which is looking to expand its reach beyond grapegrowing.
Lansing, Mich.— The concept of "sustainability" is not a new one for vineyards in Michigan. A coalition of agricultural, environmental and conservation groups came together in 1998 to form the Michigan Agriculture Environmental Assurance Program (MAEAP), based on the goal of assisting farmers "in taking a voluntary, proactive approach to reducing agricultural pollution while keeping their business operations sustainable." A number of vineyards joined the program and, according to Linda Jones, executive director of the Michigan Grape and Wine Industry Council, 40 wineries now participate in MAEAP for the vineyard operation side of their business.
Read more at: http://www.winesandvines.com/template.cfm?section=news&content=149116
Copyright © Wines & Vines
As Michigan Wine Industry Grows, State Council Looks Towards Sustainability
By ROBBIE FEINBERG • MAR 4, 2015
Ever since Michigan farmers first discovered that certain wine grapes could grow in the fields of Southwest Michigan back in the 1970s, they've searched for ways to sell it. Now, the state's Wine and Grape Industry Council is looking into a potential certification program for "sustainable" wineries and vineyards. But simply defining sustainability can be difficult, let alone certifying it.
A report on the Michigan Wine and Grape Industry Council's effort to study a sustainability certification for the state
It's late morning inside the cavernous, concrete maze that makes up St. Julian Winery in Paw Paw, and the wine is flowing. Tiny vehicles maneuver through the madness, stacking boxes into mountainous heaps. Nancie Corum-Oxley, the winemaker here, leads me through the halls and shows off "the membrane" – a giant metal device used to squeeze the grapes.
http://wmuk.org/post/michigan-wine-industry-grows-state-council-looks-towards-sustainability
________________________________________________
As Michigan Wine Industry Grows, State Council Looks Towards Sustainability
http://wmuk.org/post/michigan-wine-industry-grows-state-council-looks-towards-sustainability
---
Through a USDA Specialty Crop Block Grant, the Michigan Grape and Wine Industry Council (MGWIC) has undertaken the Michigan Sustainable Wine Feasibility study, which is a significant step toward understand the long term social, environmental, and economic vitality of Michigan's wineries and vineyards. The project will develop a deeper understanding of the wine industry's relationship with local communities and ecosystems, and it will identify opportunities to develop resources and educational tools to support the continued and responsible growth of wine production in the state.
As a project partner, 5 Lakes Energy is excited to foster a greater understanding of where Michigan wineries and vineyards are currently regarding the implementation of sustainable practices, what resources currently exist within the state, and how the industry could collectively design, develop and implement a comprehensive sustainability program and certification for wineries and vineyards.
Around the world, the wine industry has established significant sustainability programs and certifications for wineries and vineyards. Given range of existing resources, research and information from Chile to South Africa and California to Virginia, Michigan is uniquely positioned to learn from it's counterparts across the globe to better understand what type of programs, and standards would best fit the needs of a growing industry in Michigan.
As a part of our research of existing programs, 5LE will lead a group of Michigan wine industry stakeholders through a series of meetings with the organizations, wineries, and vineyards that have been instrumental in the development and continued success of California's numerous sustainability programs that adhere to the highest environmental, social, and economic standards. Over the next few days, we will ask questions essential to understanding the potential for developing and implementing a sustainability program and certification in Michigan. We will review our questions, and new insights each day through this blog.
by Cam Brown
In our first day of meetings in California, our group was fortunate enough to absorb the perspective of individuals and organizations that have helped shaped sustainable winegrape growing throughout California. It became evident that public private partnerships, research and education, and integration of sustainability into business strategy have played a large role in the success of the California programs, wineries and vineyards.
Our day began with a tour led by Karen Block of the Robert Mondavi Institute at UC Davis and the recently completed Jess S. Jackson Sustainable Winery. The facilities at UC Davis synthesize education and research with the spaces to practice winemaking techniques. Within a stone's throw from classrooms, students work on vineyards, and in the cellar (with a classroom built in) on practices that will improve wine quality, increase operation efficiency, and reduce natural resource use. The Jess S. Jackson Sustainable Winery highlights the importance of public-private partnerships in the wine industry. UC Davis researchers contribute to the body of literature that impact sustainable wine production practices, and the needs of the industry help direct the research. Nowhere is this relationship more evident than the modular research stations in the sustainable winery that act as incubation space for the next generation of sustainable wine technology.
Over lunch, we learned about the development over the last 25 years of Lodi Rules for Sustainable Winegrowing from Matt Hoffman, the Grower Program Coordinator with the Lodi Winegrape Commission. Lodi Rules grew out of interest in Integrated Pest Management (IPM) from a group of growers in the Lodi Crush District 11. Since its inception, Lodi has grown into an accredited program by Protected Harvest that has utilized on by wine industry organizations around the state and across the country as the basis for development of their own state programs. The Lodi Winegrape Commission's success stems from a commitment to the growers of Lodi; growers in Lodi are invested in the program and certification because of the value their operations gain from the research and education that the Commission leads or develops through collaboration with research institutions.
Our day concluded at The Lucas Winery with David Lucas and Stanton Lange. From a vineyard management and winery business strategy persperctive, The Lucas Winery and the efforts of Stanton Lange's vineyard management crew integrate sustainable and organic wine practices at every level. Organic and sustainable philosophies begin with the management of their old vine zinfandel and end with a cork popped on a bottle of The Lucas Winery ZinStar. The Lucas Winery made a commitment to growing the highest quality grapes and produce fine wines that subscribe to environmental standards that reduce the environmental impact of their wine and preserve the integrity of the land for future generations. Their wine club has adopted sustainability as their own. Visitors are treated to an intimate tour of vineyards, taught organic and sustainable viticulture practices, and even given the opportunity to adopt a vine that they will prune, thin, and harvest during the year so that they truly are invested in the quality and longevity of the Lucas Winery wines they enjoy.
By Cam Brown
Sacramento was clouded in fog this morning. Typical to form that fog, which helps makes growing conditions ideal in Sonoma and Napa, receded by the time we arrived in Sonoma.
Our meetings today revealed two keys insights; sustainable wine production, whether organic, biodynamic, or sustainable can improve farm practices, and that wineries' commitment to holistic farming and wine production improves retention of skilled labor instilling a sense of ownership over the grape and wine production, which in turn helps improve wine quality, increase connectedness to the community, and drive innovative farming practices.
We met with Robert LaVine, the Sustainability Manager, for the Sonoma County Winegrape Commission (SWC). In the last year, the Sonoma Winegrape Commission has made a pledge to be 100% certified sustainable by 2019 and has released a 100-year plan to preserve agriculture in Sonoma County. Robert, who has an extensive background in wine sustainability and grower outreach, assists Sonoma county growers with the process of self-assessment and certification. While the goals of the SWC are ambitious, Robert's straight forward approach to engaging growers draws on the tents of sustainable concepts: improve farming practices through self-assessment and education, maintain outstanding winegrape quality, reduce environmental impact, and preserve ecosystem integrity for future generations of Sonoma County farmers.
Benziger Family Wineries has been a champion of sustainable wine production in Sonoma sounty over the last twenty years producing a range of wines made from organic, biodynamic, and sustainably certified winegrapes. Chris Benizger welcomed us to their estate nestled in the hills outside Glen Ellen. The history of the property is as diverse as the multiple insectaries placed strategically throughout the property. Originally, the grapes were farmed traditionally, and while production and quality was sufficient, the vines were unhealthy, and the grounds silent. The dramatic need for change sparked a transition to biodynamic farming principles, which reshaped the business strategy, and reinvigorated biotic life on the property. Today, visitors are treated to tours of the vineyards to absorb the impact of, and rationale behind, biodynamic farming principles. Chris Benziger pointed out that his vineyard teams, who have to be highly trained and educated on biodynamic practices, welcomed the transition to biodynamic. They have embraced their role as stewards of the land, which has in turn improved the quality of the wine grapes and the success of the business.
Similarly, John Williams, Owner and Winemaker of Frog's Leap Winery, has found that his vineyard staff compete to work the same vineyard rows each year; their efforts impact the long term health and productive of those rows, and reflect the vineyard team's ownership in the final product that comes from those grapes. Frog's Leap, similar to Benziger Family Winery, has blended sustainability into nearly every aspect of vineyard and winery operations. They dry farm organic grapes. Most of the facilities are LEED certified. The winery is a living farm with vegetable and fruit production that allows Frog's Leap to retain full time staff year after year that are committed to the success of the winery. As John gave us a tour of the Frog's Leap property, his philosophies and anecdotes are firmly rooted in sustainable wine production, and clearly, it works. John has been making wine in Napa Valley since the 70's and Frog's Leap has produced wine from California Certified Organic Farmers (CCOF) grapes since 1989.
By Cam Brown
Dave Bos, a Michigan native, has been working in vineyards throughout northern California for the last ten years. To kick off our final day in California, Dave treated us to a rare vineyard tour of Grgich Hills Zinfandel planted in 1890. Remarkably, the block still produces 2 tons of fruit per acre. For Dave, those vines are living proof of the value and longevity of organic and biodynamic farming practices. Dave runs a vineyard management company that specializes in biodynamic and organic viticulture. Grapes from the plots he manages are used to make some of most reputable wines in Napa.  From Dave's perspective, sustainability programs and certifications could be designed with flexibility to incorporate organic and biodynamic growers in a manner that both allow growers to adhere to those standards while also encouraging them to participate in a program that has a wider scope.
The California Sustainable Winegrowing Alliance (CSWA) manages the California Sustainable Winegrowing Program (SWP). To date, SWP has reached 10,000 growers and vintners through over 240 educational workshops, which has resulted (as of 2012) in 1,386 vineyards and 391 wineries self-assessing their operations. We were fortunate to meet with almost the full team as CSWA for lunch in San Francisco. Kate Venugopal, Lisa Francioni, and Jodi Wilson gave us an extensive overview on what it takes to develop, implement, and manage a sustainability program and certification that covers every winegrowing region in California. Collectively, the scope of their daily efforts is daunting, and the development of CSWA over the past ten-plus years has taken considerable effort. Yet, they made it clear a sustainability program could be developed in Michigan. It would take time, organization, and commitment, but the resources, knowledge, and willpower exist to make it happen. Furthermore, they reiterated the fact that a sustainability programs and certifications provide valuable resources and knowledge that can improve vineyard and winery operations, while simultaneously reducing environmental impacts, insuring social equity, and meeting significant, and growing, demand from retail and consumers for high quality wines that follow transparent and verified standards.
By Cam Brown
Join the conversation, take the survey
If you are a winery in Michigan interested in an energy audit or have questions, please complete the survey here: https://www.surveymonkey.com/s/Misustainablewine
Join the conversation at the MI Grape and Wine Conference
Come learn more about sustainability at the Michigan Grape and Wine Conference March 4-6, 2015. Register now for the "Sustainability Issues and Solutions for the Michigan Wine Industry" session on Wednesday at 11:30 a.m. – 12:30 p.m.
---
Welcome to an overview of the Michigan Sustainability Feasibility Project.
Please learn more from Cam Brown of 5 Lakes Energy and Mike Powers of Keen Technical Solutions by watching the video below.
If you are a winery in Michigan interested in an energy audit or have questions, please complete the survey here: https://www.surveymonkey.com/s/Misustainablewine
For further questions, contact Cam Brown at cbrown@5lakesenergytest.flywheelsites.com.